It's that idea you have in your mind—a peaceful moment somewhere beautiful. You're relaxing outdoors. The sky is moody. The scene is stylish. It just feels good.
More than just a quick getaway into the woods to pitch a tent, a glamping adventure is an escape. And more than simply camping, glamping is a statement and an expression of what you love most. So take some time to prepare. Then, gather a small group of your closest loved ones—or come all by yourself—and head to the woods!
It's key to camp in luxury, style and comfort to make it glamping.
Our Three-Step Guide to Glamping
Plan ahead.

Take as much time as you need to dream up every detail. Sketch out the campsite. Prepare meals ahead of time (you could bring boiled pasta, for example). Test out the menu and sample the treats to make sure they're just right. You want to leave home prepared and ready to enjoy each moment.

Dream big.

There's nothing too ambitious here. If you want to recreate an incredible hotel room at a campsite, or turn your tent into a setting inspired by an African safari, go for it!

Take it slowly.

Make sure you schedule enough time to just sit still and enjoy your preparation. Once you're actually out glamping, take time to read, to play your ukulele, to color or to spend hours slow-cooking the evening's dessert. There's a sweet deliciousness about this kind of leisure. Embrace it!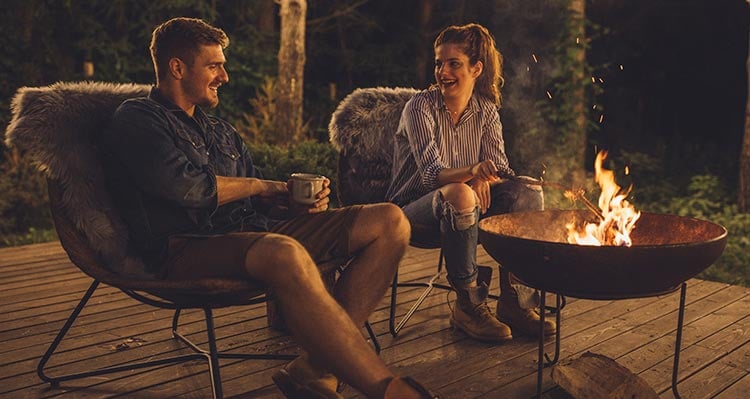 What to Bring Glamping
Cozy sheets, blankets and pillows.

It's got to be a step up from your sleeping bag. A duvet and quilt will also help heighten the mood and the style.

Accessorize.

String lights across your campsite. Lay down rugs. Put up art and plants, and make sure you've got stylish table linens as well!

Good food.

It's essential to eat well while you're glamping. Start with good coffee (you can make in a French press, Aeropress or pocket espresso maker). Pre-plan as many meals as possible, the less clean-up the better. Boil your pasta ahead of time, cut up the veggies into containers so they're ready to toss into the stir fry. Here's our recipe for campfire nachos, which always go well with a chilled drink. And don't forget chips, chocolate and your s'mores kit.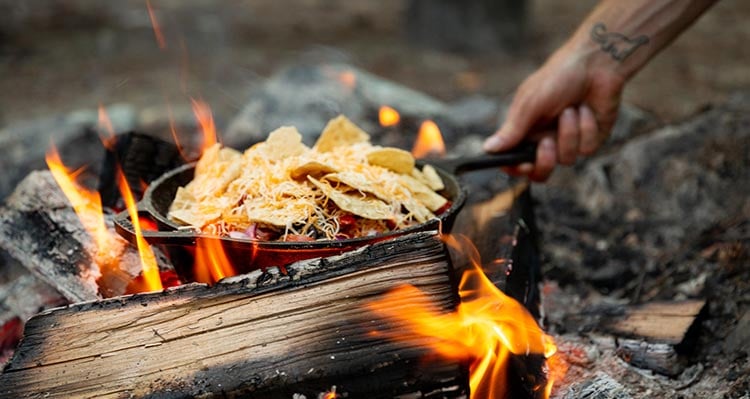 Furniture.

You're going to want to settle in, so bring along chairs, bean bags and hammocks. Use your suitcase or cooler for a table!

Entertainment.

No matter the time of the day, fun is in order. Bring board games, cribbage, a few decks of cards, coloring books and sharp colored pencils.
Lastly, don't stress about bringing everything with you. If you need any camping supplies, extra snacks or a cold beverage, West Glacier Village has plenty of dining and shopping outlets to make your glamping escape feel just like home. And if you're looking for fun activities while you're glamping, plan to play a round at Golfing to the Sun Mini Golf.
Get inspired and start planning your next glamping getaway, just be sure to bring your style!